The 'Club of 105' are friends of GVC. Its members are people who have defended the green-white of GVC when most of its current players were yet to be born. Nevertheless, after all these years, GVC still, understandably, has a place in their hearts. We want to keep you connected to the club so you can keep up to date with the progress of GVC, see how the teams are doing, and transfer the passion for GVC onto our new members! Furthermore, your sponsorship allows GVC to keep battling to become the best club in Wageningen, as your sponsorship money will be used to by kits, balls, training equipment and the occasional victory drink.

We offer various different levels of support packages: GVC Bronze, GVC Silver and GVC Gold, the old top tier of the Club of 105, GVC Platinum, will come at a later stage.

GVC Bronze is the entry tier of the Club of 105. If you choose this option we will send you our newsletter that contains information about recent events GVC has held, updates on big events within the club, a retelling of the most important/thrilling match of the last month and the current standings of all the GVC teams. This should keep you in touch with what is going on within the club and is available for only 25 € per season.
GVC Silver is the next tier of the Club of 105. Not only will joining allow you to read our magnificent newsletter, it will also allow you to enter all of the GVC events that are organised throughout the year, such as, but are not limited to, a family 7v7 tournament, bowling, pool, watching the World Cup, and many more fun activities that are usually held on a monthly basis. Joining these activities is either free, or partly subsidised by the board. This tier is available for 55 € per season.
GVC Gold is the current highest tier of the Club of 105, it includes all the previously mentioned benefits and adds a monthly 7v7 tournament against other Club of 105 members, with some current members to mix it up. These matches will allow you to keep in shape while being able to socialise with fellow Club of 105 members and new members, and afterwards we will all go to the pub for a well deserved drink! Becoming the most prominent of GVC Club of 105 supporter is only 105 € per season, but we are sure you will make it worth your while!
GVC Platinum is currenly being revised, and will return at a later date, so stay tuned!
Due to the fact that the season is already half way, we offer a 50 % discount if you join now for the rest of the season! From the 23-24 season onwards we will charge the full amount.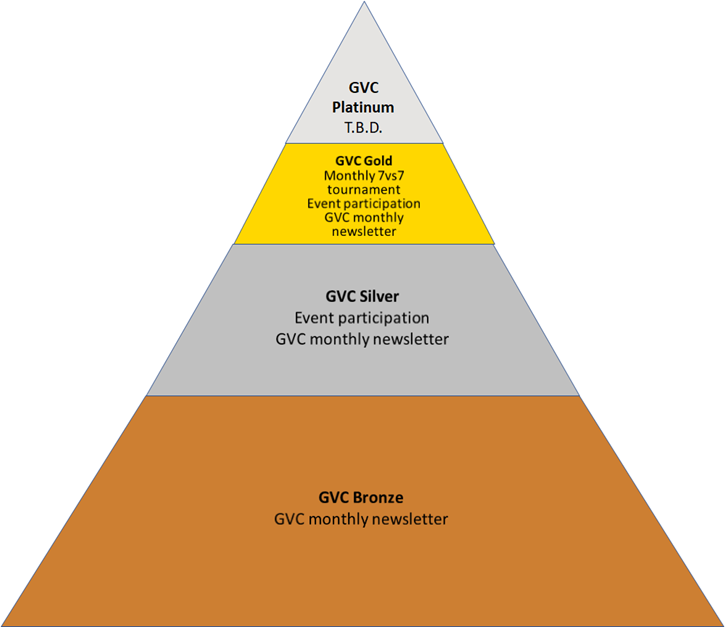 Welcome to the Club of 105!




By joining this illustrious company, you not only support GVC in its ambition to once again become the best club in Wageningen and surrounding areas, but you also provide yourself with privileges such as playing classics like GVC-Legends- Sparta-Gold, Het Kleurrijk tournament and the famous Johan Puyn Bak!

Previous Club van 105 members
Constant Onstenk (Member since 1983)
Erik van Oosten (Player 70's & 80's)
Huub Keulen (Player 70's & 80's)
Diederick van der Molen (Player 70's & 80's)
Simon Jasperse (Player 70's & 80's)
Geert Stoker (Player 70's & 80's)
Con Boeckhout (Player 70's & 80's)
Arno Boon (Player 70's & 80's)
Jeroen Veraart (GVC member since 1995)
Rob Valentijn (sponsor GVC3)
Imre Overeem (trainer GVC selection)