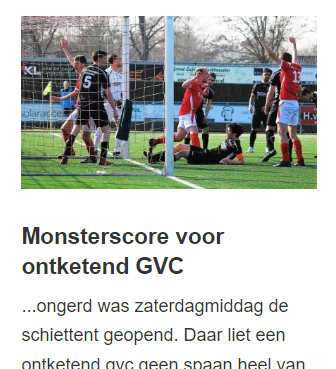 Before the season the GVC technical staff set the goal of finishing top 5 with each and every team. We recently posted that the staff was close to obtaining this goal. So, how did we do?
GVC Ladies: 5th, but somewhat disappointed with spoiling the 2nd place in the last competition match.
GVC Men 3: 4th.
GVC Men 2: 6th, equal points with the nr. 5th.
GVC Men 1: 7th.
And then GVC Men Sunday: 1st!
So, all in all, not too bad, but, in all honesty: the target was not reached. :(. Luckily, the GVC Sunday team compensated by not only finishing top 5, but even champion. Well done, guys! In the last phase of the competition, it looked like the title was slipping away. But, the guys remained composed, secured some tight victories in tense battles, and,supported by many supporters, showed their true quality in a dominant performance in the final home game, which secured the title.

Some words on GVC 1: The guys ended 7th, exactly in the middle. There are two sides of the coin, really. On the one hand, the 7th place is disappointing. On the other hand, GVC 1 showed that it can and should play in the top 5. GVC 1 managed to collect points against nearly all teams. There were only two teams which managed to beat GVC 1 twice, the champion WAVV and a disciplined Mourinho-style FC Lienden. In general, the staff and players only accepted the balanced and effective WAVV as superior, and perhaps also the skillful but apparently the somewhat mentally weak Fortissimo. Against all other teams, GVC 1 felt that points were squandered. If that is true, then there are high hopes and expectations for coming season…