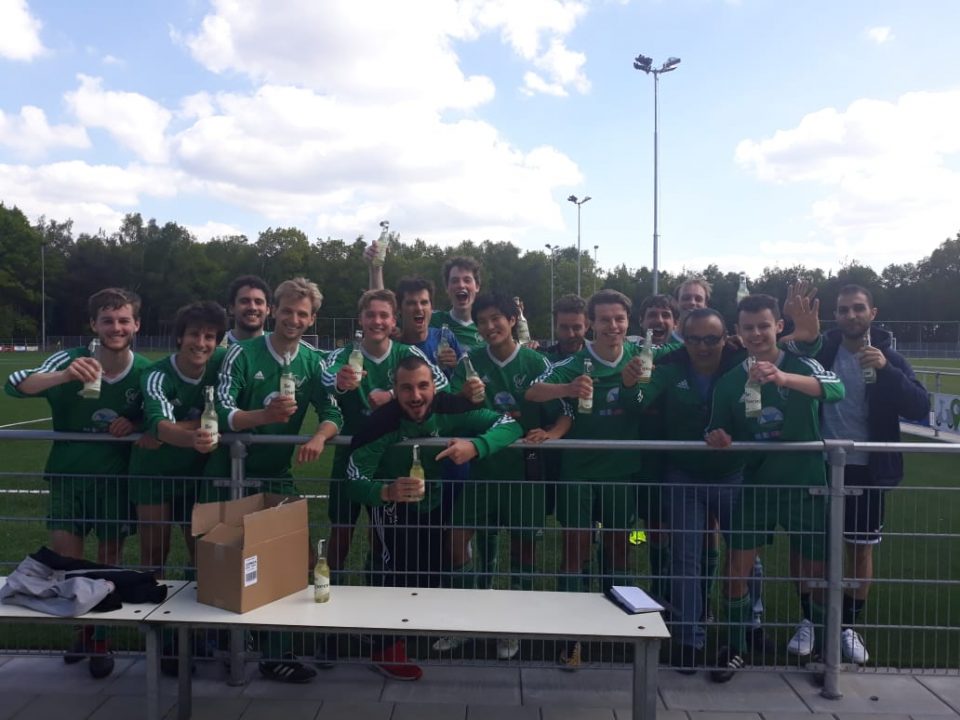 In this post, we describe the benefits of a GVC membership in the coming season. For €75 for the whole season, you get the following:
First of all, GVC organises a football activity every day of the week. From Monday to Thursday there are training sessions. From Friday to Sunday teams of GVC play matches in official soccer competitions. (Scroll down to see the weekly schedule of the training sessions and matches.)
Secondly, through playing football together, GVC will give you a whole squad of new (international) student friends. Your team mates will welcome you for a drink after the training session or match in the sports centre.
Football/futsal tournaments (all members together) three times a year: September, December/January (futsal) and June
Training sessions and matches are lead by enthusiastic qualified trainer/coaches with experience as football player, and a connection with students.
For players of GVC1: team and individual player video analysis.
For all full members: possibility to participate in BuildUp Becoming a better footballer. BuildUp is a new and exclusive feature of GVC. It is a personal development program in which trainers/coaches and team mates help you to become a better footballer. See more info here.
Based on the performances of last season: Playing in a team that is high ranked in the competition.
Please note that to become member of GVC, a Thymos student sport card is required. The Thymos student sport card gives you access to the sports centre, swimming pool, squash rooms and fitness room, as well as the rights to participate in many Thymos sports activities.
SCHEDULE TRAINING SESSIONS & MATCHES
This is the training schedule:
– Monday: 20:15 – 21:15 GVC Women training AND 21:15-22:15 GVC Men 2 training
– Tuesday: 20:30 – 22:00 GVC Men 1 training
– Wednesday: 18:45-20 GVC Women training
– Thursday: 20:15-21:30 GVC Men 2 training AND 21:00-22:30 GVC Men 1 training
The matches are planned as follows (within brackets, time of home match):
– Friday evening: GVC Women (20.00h; once every three weeks)
– Saturday morning (11.30h): GVC2 Saturday (away match could be scheduled in the afternoon)
– Saturday afternoon (14:30h): GVC1 Saturday
– Sunday morning (11.00h): GVC2 Sunday