(English version below)
Anita Vlasveld (30 december 1960 – 20 september 2018)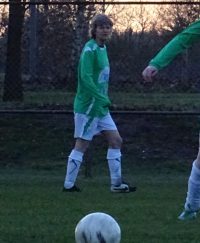 Toen we vorige week het bericht kregen dat Anita een hersenbloeding had gehad en dat de vooruitzichten heel slecht waren, waren we allemaal diep geschokt. Een gevoel van ongeloof: hoe kan het dat we haar nooit meer gaan tegenkomen?
Toen Anita in het begin van de jaren 80 ging studeren in Wageningen, is ze gaan voetballen in 1 van de 5 GVC damesteams. Na haar afstuderen heeft ze geruime tijd in Afrika gewoond en gewerkt, maar als ze weer terug was in Nederland kwam ze altijd weer voetballen bij GVC.
Anita was heel erg sportief: naast voetballen, fietste ze veel en liep ze veel hard. Een aantal jaren geleden rende ze zelfs door de Alpen.
Afgelopen voorjaar hadden we een vriendschappelijke wedstrijd in Renkum: Anita fietste daar naar toe, speelde de volle negentig minuten en daarna weer op de fiets terug naar huis. Ze was veruit de oudste op het veld, maar hield het met gemak vol.
De woensdagavonden zullen nooit meer hetzelfde zijn.
We wensen haar dochters Titia en Teddy, verdere familie en vrienden heel veel sterkte met het verwerken van dit grote verlies.
GVC-dames, trainers en bestuur.
---
Anita Vlasveld (30 December 1960 – 20 September 2018)
We were all deeply shocked when we received the message last week that Anita had a serious stroke and chances of recovery were very slim. A feeling of unbelieve: how come we are never going to see her again?
When Anita started her studies in Wageningen in the early eighties she also started playing football in one of the five GVC women teams. After graduation she lived and worked in Africa for several years, but when she came back to the Netherlands she always came back to GVC to play football.
Anita was a very sporty person: next to football, she cycled a lot and loved running long distances. A couple of years ago she even ran through the Alps.
Last spring, we played a friendly match in Renkum: Anita cycled to Renkum, playing the full ninety minutes and cycled back home. She was the oldest on the field by far, but didn't have any problems to play a full match.
Wednesday nights will never be the same.
We wish her daughters Titia and Teddy, other relatives and friends a lot of courage coping with this big loss.
GVC-women, trainers and board.