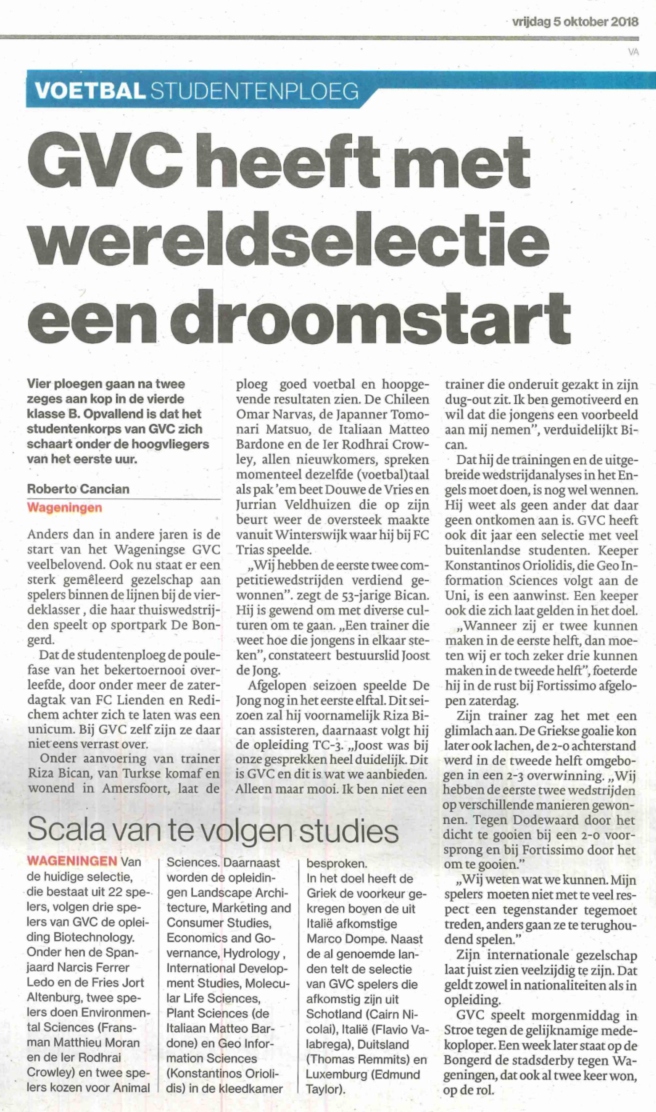 You probably read or heart about it already: GVC1 has started the season fantastic! Of the seven matches, six turned out into a victory. As a result, GVC1 survived the group stage of the cup, and or in the top of the competition table. The top-ranking in the competition is especially noteworthy, because GVC1 faced serious opponents: Dodewaard, Fortissimo, and Stroe. All these clubs have ambitions of becoming champion.
The positive start of the season resulted in lots of media attention. Two of these articles are shown right and below (in Dutch, click on the image for a larger version, source: De Gelderlander). The title reads: "Dream start of a world-class selection". Whether the start of indeed to dream about, and whether the selection is world-class, may be topic of discussion. And really, the selection is not necessarily cosmopolitan, but European Union-like: the Irish-born Rodhrai Crowley, the Greek Konstantinos Oriolidis, the Spanish (Catalonian) trio Adria Fontrodana Bach, Narcis Ferrrer Ledo and Amadeu Bernaus Ramirez, the Italian Matteo Bardone, the Frenchman Matthieu Moran. In any case, the articles makes a new read.
In the coming weeks, the players of GVC1 have to live up to the high expectations. Some tough opponents await, namely vv Wageningen (the derby!) and vv Ede-Victoria. Will the players keep up the good spirit?, or was this really a temporary outburst?
If you are a student who can play football at high level, and are still without club, please be welcome to join the team, and to help us to maintain a high-ranked position! (see the tab clubinfo for how to contact us).